AIKA/PAIKKA:
Su 12.05.2019
klo 2000
Teamspeak3
ts.anrop.se
Pw = hejsna
Arma 3 server
arma3.anrop.se
Port = 2302
Pw = hejsna
Tehtävänkuvaus:
The bear went over the mountain (Again)
The scenario is a combined co-op and PVP scenario where the main force of players will act as the attacking Soviet force, versus the mostly AI defenders who will be accompanied by a number of players acting as Mujaheddin.
The scenario is not competitive and the "enemy" players will act under certain limitations, their purpose being to provide a more challenging experience for the attackers while keeping AI numbers down.
***
General information
Hosted by Anrop
http://www.anrop.se
TIME AND DATE
MAY 12, 2019
GAME START 17:30 Zulu / BRIEFING & SLOTTING 17:00 Zulu
TS: ts.anrop.se
Server: arma3.anrop.se:2302
Scenario type: Co-op vs AI + Players
Map: Lythium
Main mods: ACE + ACEX + Particles, CUP, TFAR Beta
Player count: Currently maximum of 42 slots of which 10 are reserved for AFI players.
Medical system: ACE Advanced w/ Splint, no revive, tweaked AFI settings
Situation
Afghanistan, 1984
Soviet troops have for several years been assisting our Afghan allies with counter-insurgency operations against Imperialist-aligned, reactionary guerrillas (Mujaheddin).
The civilian populace has largely fled, but some individuals may remain in the area. Unarmed civilians are not targets. However, let nothing impede your advance. Remember that every building or position used by confirmed or suspected enemies, should be regarded as hostile and, if necessary, be engaged with every available means at your disposal.
Mission
1. Capture and clear the village of ORFAR; then,
2. Capture and clear the industrial zone in western OFFAR; then,
3. (OPTIONAL) Capture and clear the eastern part of OFFAR - depending on time & resources left.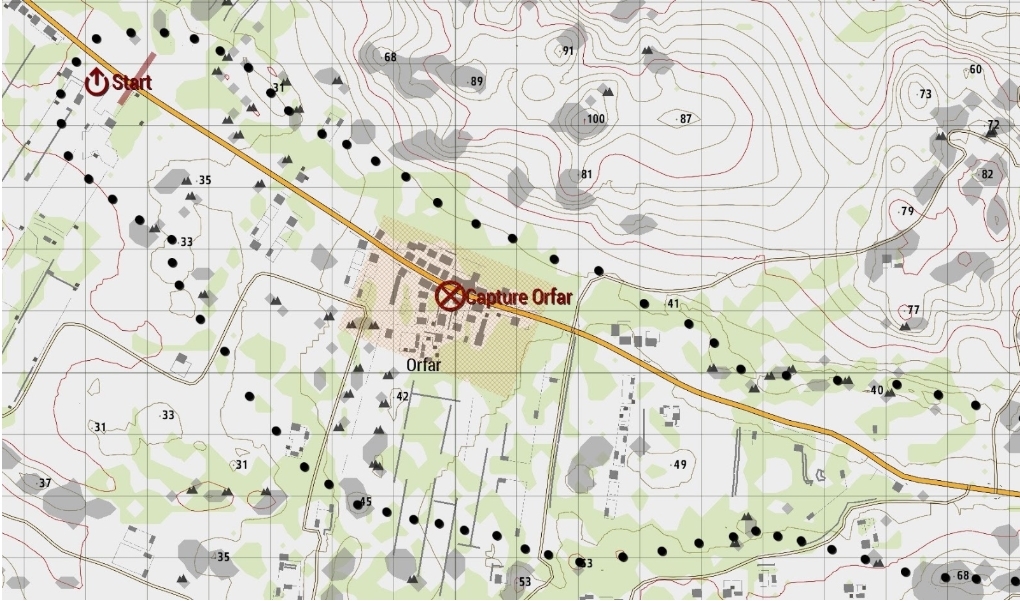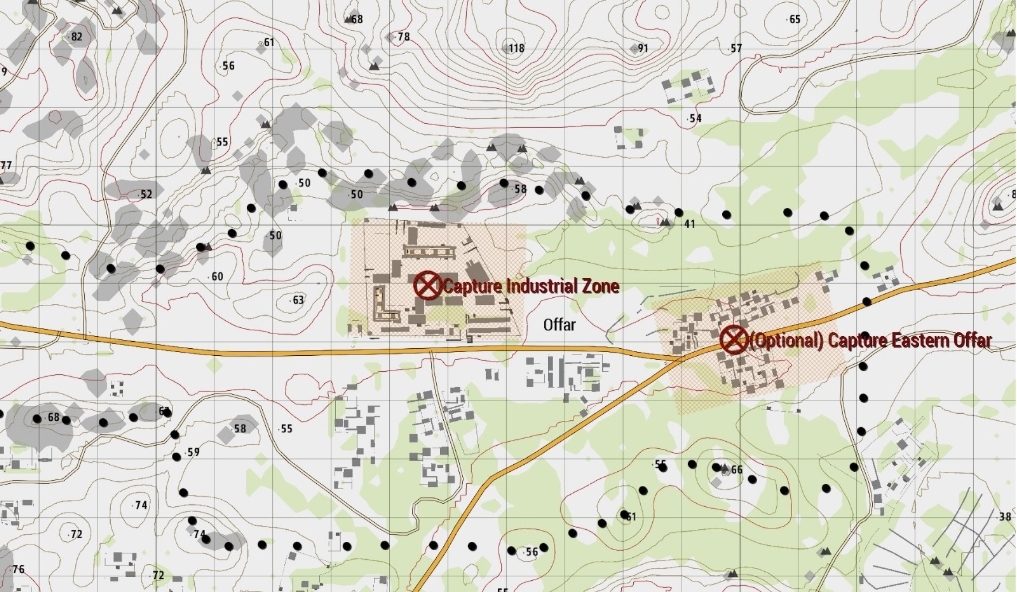 Friendly forces and composition
Kosmos - Command (1x BRDM)
Zvezda - Motorized rifle platoon (3x BTR-60)
Luna - tank (1x T-55)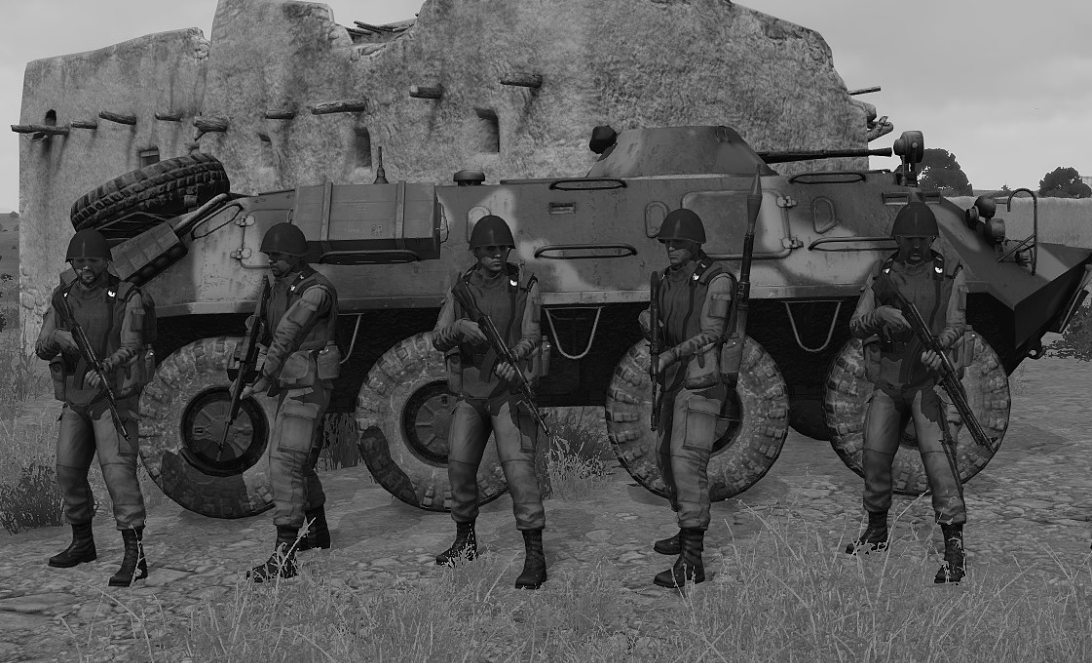 Enemy forces
Considerable Mujaheddin forces are believed to be in the area. They know they are surrounded and can be expected to put up heavy resistance.
The enemy is believed to be concentrated to the objectives, but may also be present outside of them. However, it is not necessary to clear them out from the areas outside of the objectives.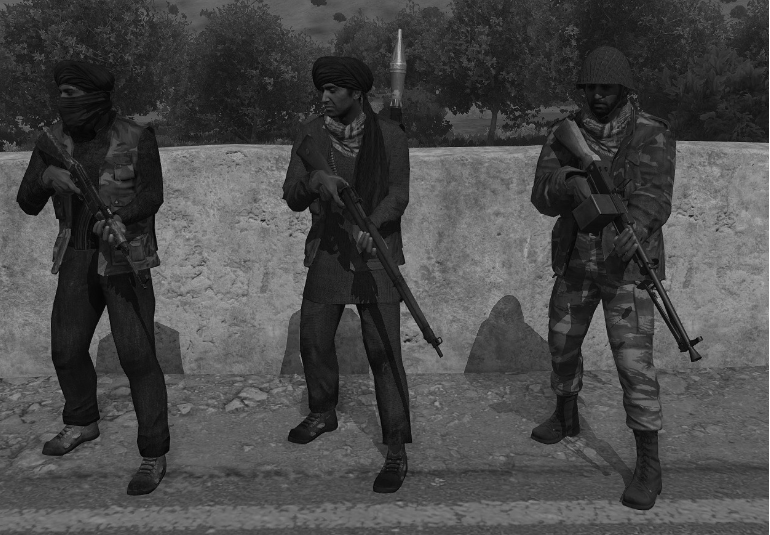 The total enemy strength is estimated at 50-60 fighters, but there is a great deal of uncertainty in our intelligence. Many of them are deserters from the Afghan army, and they are equipped with small arms, supported by machine guns, RPGs and mines, as well as static AT weapons and heavy MGs. Armored vehicles captured from the Afghan army may also be present, although no such vehicles have been spotted by aerial reconnaissance.
***
Scenario details
* ACE Advanced Medical with ACE Splint
* No revive; wave respawn is used.
* Reinforcements (respawn) will arrive after an objective has been captured.
* The CO can also request one (1) additional reinforcement wave at any point in the mission.
* Vehicles are only replaced once. Replacement vehicles have 50% ammunition load.
* Extra ammunition, equipment etc is available in the vehicles. The reinforcements will also bring extra ammunition.
* All vehicles have a backpack in their inventory. This is for use with the toolkit - do not remove it from the vehicle.
* The play area is demarcated by black dots. Do not leave the play area - there is nothing outside it.
* The orange zones show the area in each objective that needs to be cleared of enemies for the task to be considered completed.
Lisätietoa:
https://www.anrop.se/operations/operation.php?id=1250
https://docs.google.com/document/d/1Op9 ... sp=sharing
Osallistuminen:
1. Ilmoittaudu AWATS! -10 max pelaajaa!
2. Varaa paikka rosterista!
3. Lataa modit ajoissa!
4. Testaa modit ja yhteydet
5. Ole serverillä ja tessussa AJOISSA!
Modien lataaminen:
Modit ladataan Steam Workshopista.
Lataa ensin tapahtuman preset Anropin tapahtumasivun alalaidasta!
Huom! Valinnaisia modeja jotka ovat valmiiksi jo presetissä asennettuna.
ShackTac User Interface
JSRS SOUNDMOD
JSRS SOUNDMOD - CUP WEAPONS AGAINST SOUND SUPPORT
JSRS SOUNDMOD - CUP VEHICLES MOD SOUND SUPPORT
(Jos et halua käyttää niitä ne tulee disabloida itse.)