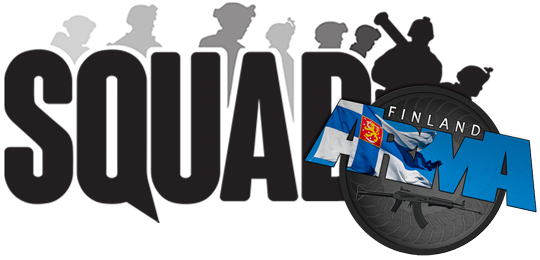 Mikäli olet kiinnostunut kickstarter vaiheessa hankkimaan kyseisen pelin, ilmoittaudu tähän threadiin niin katsotaan minkä verran porukkaa saadaan kasaan. Sitovat ilmoittautumiset merkattu vihreällä.
Squad sivut
Squad foorumi
Squad Kickstarterissa
Squad Steamissä
Squad Livestreamit
AFI Company Clan Pack sisältää seuraavat bonukset:
- Inclusion in the first tournament (lisäbonus)
- Closed pre-alpha access (lisäbonus)
- Closed alpha clan invitational
- Closed alpha access
- Steam early access
- Standard level game key (all keys include alpha, full game w/early access and all benefits of clan pack)
- Registration and inclusion of clan patch for clan members
- Founder patch in game
- Founder tag in forums
- Alternate primary weapon skins (AK and M4)
- Digital copy of the "Squad" soundtrack
- In game name in credits
Kaikille sinisellä näkyville lähetetty 24.07.2015 08:45 avain sähköpostitse.
Steam -avaimet lähetetty 05.12.2015 AFI foorumin privaattiviestinä.
Mikäli et saanut avainta, ota yhteyttä yksityisviestillä allekirjoittaneeseen.
Kaikilla tähän kimppatilaukseen osallistuneilla on mahdollisuus saada lisäksi Post Scriptum peliin avain ennen sen julkaisua.
Lähetä yksityisviesti foorumeilla, steamissä tai discordissa mikäli haluat avaimen.


Soppa
kamu
Samout
IsaiahCortez
Dowly
Aspirant
zpeed
pumba
Keneraali
Ahteri
Junnu99
zyppeli
KuiK
M4ik
mdms
Kale
Nummi
ilee
nallepa
KaleRv0
JoneKone
Johnson
Riqu
T0ni
Putsi
Persejermu
Penoxi
Annddy
nahkiss
kasi
IcyT
Tonto-
Scottz
giqu
jesteri

Ei vahvistaneet:


Salmik

SissiSaatana

SpottedBill
KuumaSuklaa
Jones

madreizka

Thororin
Karko

//Soppa