Käymme yhden ryhmän voimin vierailemassa saksalaisen Armaworld yhteisön eventissä.
AIKA/PAIKKA:
La 06.07.2019
klo 2030
Teamspeak3
ts.armaworld.de
Arma 3 server
- //tulee peli iltana tietoon syistä
Tehtävänkuvaus:
Coopetition 09 - ghost hawk down
CSAT is continously gaining control over the eastern Mediterranean Sea and is annexing island by island. On Altis, an insurgent-like movement - FIA - fights against CSAT. They make their lives on Altis as hard as possible and with that, they are more successful than any other organization on the other Islands. FIA uses the often confusing grounds of Altis perfectly to their advantage and repeatedly strikes important blows against CSAT. Especially the decentrialized organization of FIA is giving CSAT a hard time, to encircle and destroy them.
NATO tries to stop CSAT advancement in the Mediterranean Sea and is still in control of the continent Greek. From there, they perform reconnaissance missions to plan a reconquest of the Islands.
As every resolution of the security Council aiming in this direction is stopped by a Veto of Russia and China though, NATO mustn't start any military operation in this region. Nonetheless they did start a Blackops mission...
During that mission, a Ghosthawk of the NATO Special Forces - CTRG - crashed in the south-west of Altis due to yet unknown reasons.
Both CSAT and FIA, who are currently fighting over strategic positions in the south-west, noticed the crash.
Because of the 'Declaration of Athos', which sanctions FIA"s claim of power over Altis, NATO declared FIA as a terrorist organization. Therefore it is assumes that all parties are hostile to one another.
***
General information
Hosted by Armaworld
https://armaworld.de
TIME AND DATE
July 6, 2019
GAME START 18:30 Zulu
TS: ts.armaworld.de
Server: - //tulee peli iltana tietoon syistä
Missiontype: TvT
Missionsize: TvT112
Map: Altis
Ingame mission start time: 05:00
Mods: ACE³, Ace Particles, AceX. CBA, TFAR (v0.9.12)
Injury and Death: ACE Medical Basic with InstaDeath
Technical Respawn: Join-In-Progress-Player spawns near the Zeus
Visibility: limited to 2000m
Techcheck: will be available one Week before mission start. In case of Problems please contact the Eventteam
Situation
Both CSAT and FIA pulled forces into the south-west of Altis and try to gain control over valuable strategic positions. While CSAT wants peace in Kavala and surrounding areas, FIA wants to make clear, that there is no safe place for CSAT on Altis.
At this point, the situation is very confusing and there is no clear frontline.
It is assumed that possible survivors of the helicopter crash will be evacuated by NATO as soon as possible.
Mission
Mission Details will be distributed to the leaders of each faction.
***
Lisätietoa:
https://armaworld.de/index.php?thread/4 ... hawk-down/
Osallistuminen:
1. Ilmoittaudu AWATS! -9 max pelaajaa!
2. Varaa paikka rosterista!
3. Lataa modit ajoissa!
4. Testaa modit ja yhteydet
5. Ole serverillä ja tessussa AJOISSA!
***
Modien lataaminen ja asentaminen:
Tehtävä pelataan käytännössä täysin vanillana lukuun ottamatta ACE3 ja TFAR modeja.
Vaikka modit eivät ole niin isoja, ne tulee ladata ARMAsyncin kautta,koska modien versiot ovat vanhemmat kuin mitä omassa repossamme.
Esimerkiksi TFAR on 0.9.12
Suosittelen luomaan oman modikansion niille ettei ohjelma asenna AFI modien päälle.
Lataa ja asenna arma3 sync
Luo itsellesi modi kansio.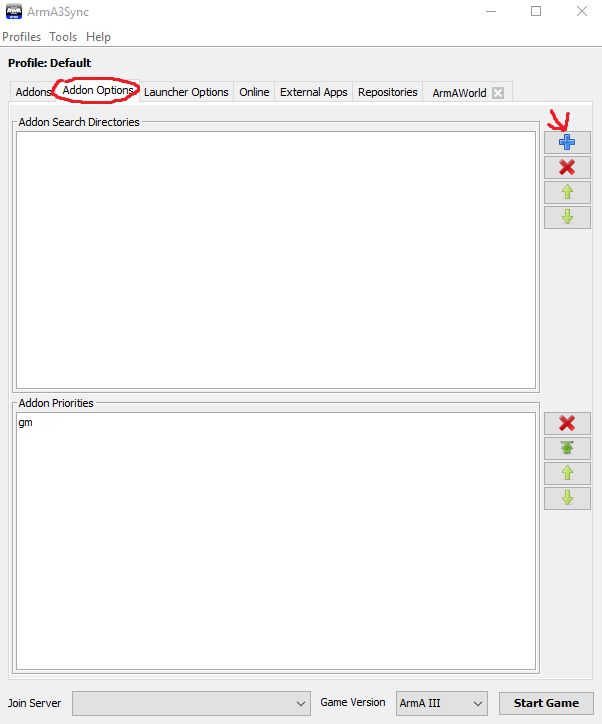 Luo itsellesi modi kansio.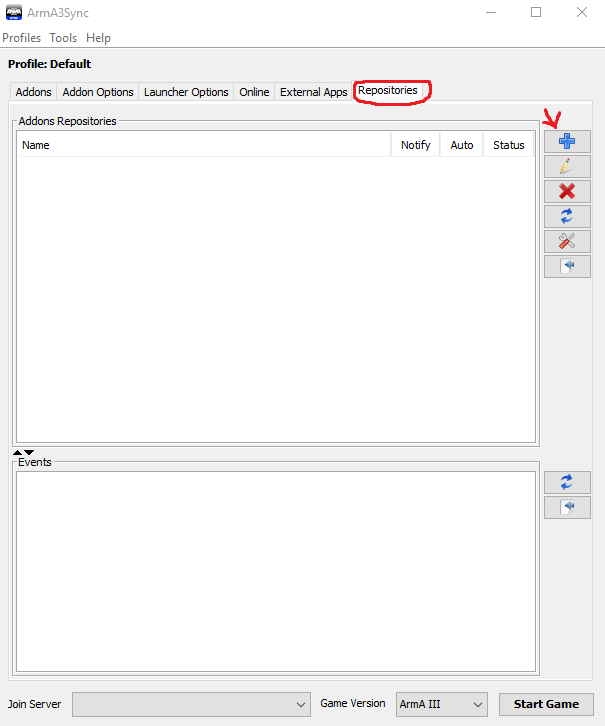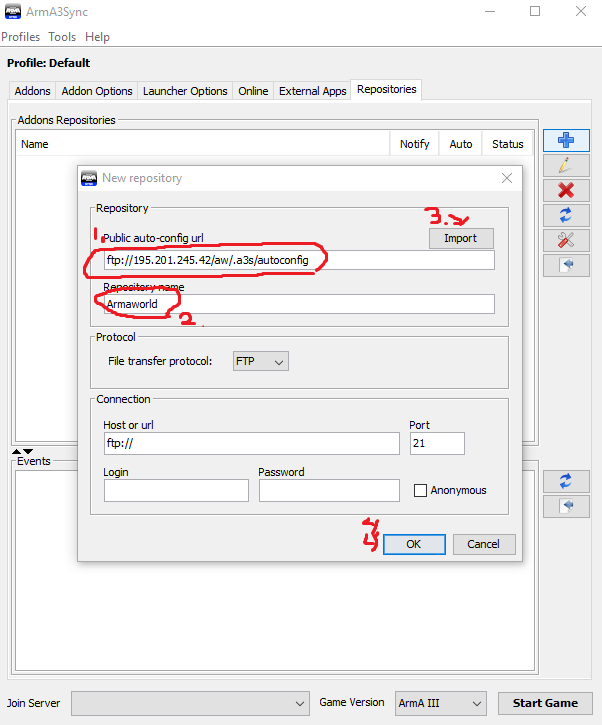 Aktivoi repository
ftp://195.201.245.42/aw/.a3s/autoconfig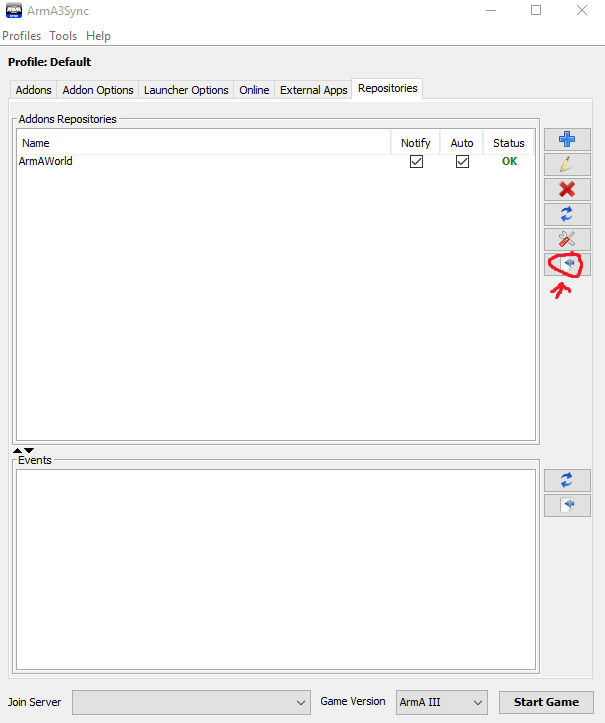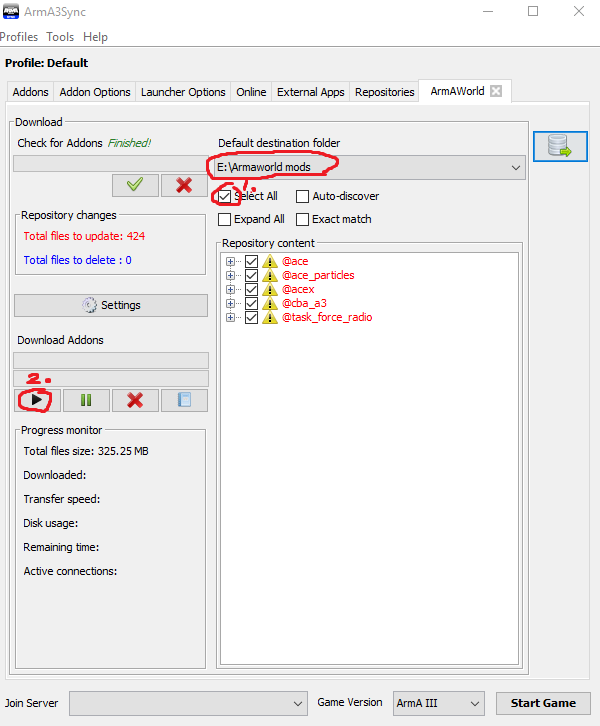 Valitse modikansiosi ja lataa kaikki modit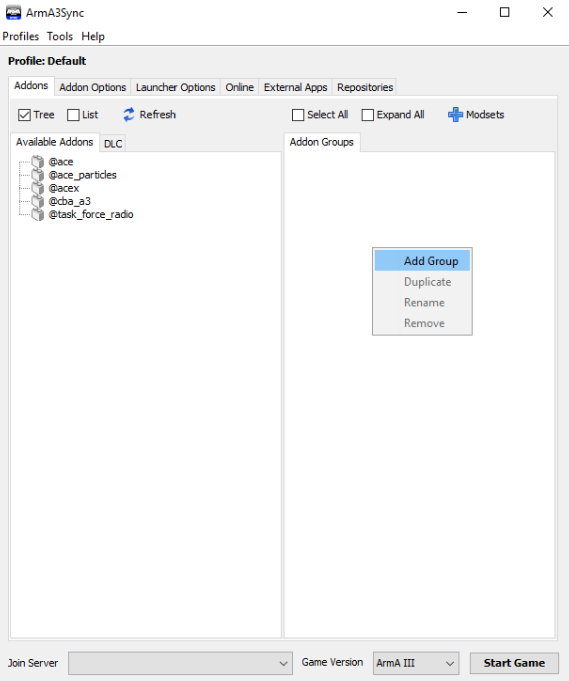 Luo uusi modiryhmä
Vedä modit ryhmään ja käynnistä peli.